Several model(s) to choose from - Interior (single panel purchase) Exterior -(single panel or multiple array system)
Multiple array panels must be ordered in even numbers. You will have a choice to enter the number of panels for your design at checkout. You can use our Express Checkout to place your order or setup an account.
Starting with our single-panel solution. A solar air systems Model SAS2448 solar thermal air heater panel generates enough heat on a sunny day to heat an average size room. Producing up to 4,100 BTUs and priced at $379.97, this panel is the lowest cost practical solution to going solar of any system on the market.
The core of the Extreme Heat is the "U.S. and Canadian Patented Solar Air heater Step-wise heating Technology. Each Solar Window Air Heater insert has been specifically designed to capture the suns energy, converting energy to heat.
Because of the unique inserts design the overall surface area is greater than any other angular and or flat plate solar air window heater of similar size. With the increase of surface area, the Model 1848 can have a smaller overall size with an increase of heat output. (greater efficiency).
Over the course of several years now prospective customers have been skeptical about the effectiveness of an inside solar window air heater. If manufactured properly they are very efficient. To insure functionality, at solar air systems we have taken a very novel approach to show you visually just how effective and hot our systems are. Our approach is simple - "seeing is believing"
For 2015 our inside solar window heaters will include a new state of the art digital thermometer that measures inside temperature with an easy-to-read red digital display. Not only seeing the temperature but also controlling the airflow fan.
Protected under U.S. Patent number 7,434,577 and Canadian Patent number 2643573 the new solar air heater systems has a reduce system cost with a quick ROI.
The Model 6036 is 60 inches wide by 36 inches tall. The 4 inch entry and exit hole in the back side of the left hand and right module assemblies.
Pre- Order $899.95
---
Production Notice 5-28- 14
Solar Air Systems made-to- order and solar air heater exterior window shutters ship quickly.
We have streamlined the order and production process to keep prices low and decrease production time. However, we do not rush orders or cut corners and sacrifice quality.
Made-To-Order solar air heater shutter panels - 15 - 20 working days!
Solar Air Systems offers several size and exterior combinations, so most exterior solar air shutters are constructed after an order is received. June, July, and August are the high season months with the greatest volume.
Solar air heater shutter construction currently requires 15 - 20 working days. July, August and September are the high season months with the greatest volume so production time may be slightly longer during these months.
Quick-Ship Panels - 5 working days (48 inches) Stock shutters are generally shipped within 5 working days from receipt of payment.
---


Solar Air Heater Install - North Pole, Alaska

1/22/2014
The install went great, and may I say the units are EVERY bit as you said, as for their quality of construction. I was not expecting to see the quality of construction that you have!!

Several of the units had bent attachment flanges, from shipping, but were easily straightened. It would have been much worse if not for your great packaging. I AM TOTALY SATISFIED! Because of the shop at a few degrees off, I will probably get a couple more to put on another wall.
I have been amazed at how much less the oil heater runs. The shop is super insulated, but the oil usage has dropped since the install.

It is an absolute that I am changing the design of the house that will be built next to the shop, to accommodate 2 large units, aprox 20 feet, of panels.

I am at work now, I will talk again later. Regards Tony
---
The patented "Step-Wise Heating Technology™"
The Solar Air Systems "Step-Wise Heating Technology™" solar air heater has more than a 23% increase surface area with a reduced overall size. Because on the design, the solar air systems heater modules have an increased surface area exceeding 23% over a flat plate solar air heater collector system.
Simple calculations: take a 15 wide X 48 tall solar air heater with an aluminum flat plate collector. The exposed surface area, excluding the frame and insulation is 14" x 46". The total square inches is 644. (4.47 sq/ft)
The Solar air systems 15 wide X 48 tall with the same 14" X 46" exposure with "Step-Wise Heating Technology™" has 840 square inches. (5.83 sq/ft) This does not including the thickness of each individual insert.
When comparing the cost you will find the solar air systems modules the most cost effective to purchase. To further minimize cost, all our modules are purchased and shipped directly to you, our customer. Our products are not sold through retail channels because it adds additional cost (retail markups typically range for 25 to 50%). The installation is minimal for the DIYers, HVAC, builders, or any general contractor can easily install a system in under 2 hours.
Coming 2014 - Solar Air Heating Building Facade
Our "Step- Wise Heating Technology™" Solar air heating building facade which is a solar thermal technology to heat or condition air for heating. Available in 3' X 6' sections.
---
Solar Air Heater Model SAS1548 Shutters
An evolution in design, Solar Air Systems breakthrough patented passive solar air heating shutter system looks just like a vertical house window shutter – but does something no other window shutter can do - generates heat!
Use the power of the sun to help generate free heat and reduce your heating bills with solar heating technology. The unique Solar Air Heater shutters passive solar heater is capable of reducing heating bills by as much as 45% per room. This breakthrough shutter design, passive solar heating shutter application generates clean, renewable heat without changing the look of you home. It's an easy, affordable and a cost effective way to bring passive solar heating into your home, apartment, office or building to reduce heating bills.
When installed side by side next to your south-facing windows (sunny side), the Solar Air Heater shutters generate free heat from the sun. Air temperatures leaving the Solar Air Heater shutters and recalculating into your home can reach 160 degrees.
How can Solar Air Heater Shutters help reduce your monthly heating bills?
During the fall and winter the sun is low in the sky. South-facing rooms receive the majority of the sun's direct rays. When Solar Air Heater shutters are installed along side of your existing windows, these rooms have more exposure to the sun energy from outside your house. The sun heats the inside of each shutter using the Patented energy absorbing aluminum core of each heating shutter surface area. As your inside room air travels through the shutters heated insert cores, it is heated up to 160 degrees and exits the top to re-circulate into your room as free heat.
That means you can turn your thermostat down during a sunny day and let the Solar Air Heater shutters help keep temperatures up. Even if no one is home during the day, the Solar Air Heater shutters will provide heat to your home for free. And when you return home your furnace won't have to work as hard to raise the temperature to the level you desire. The less your furnace works means there's money being saved on home heating bills.
Not only do Solar Air Heater shutters generate free solar heat, but they are aesthetically appealing. Solar Air Heater shutters look like existing house shutters and are the smart, simple way to bring solar heat into your home while lowering your heating bills and reduce dependence on fossil fuels.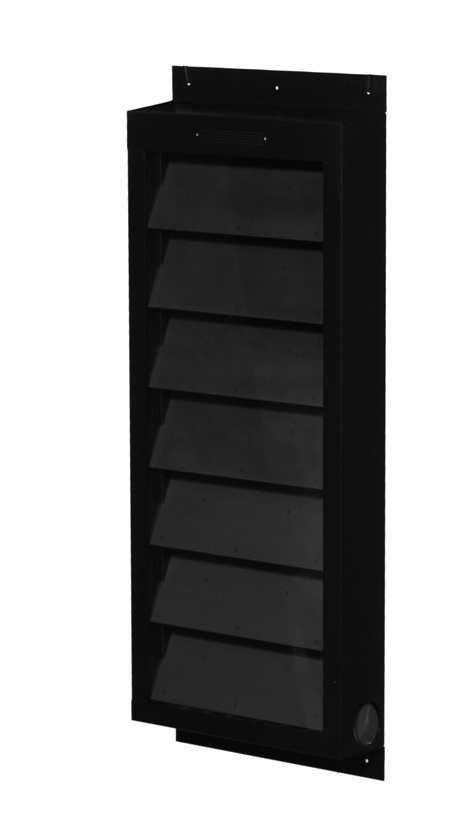 Solar Air Heater Shutters (sold in pairs) 15 inches wide X 48 inches long
Requires 2ea. (1 top and 1 bottom) 3 inch through wall holes per shutter.
Retail $575.97
$575.97

Save $100.00

$475.97 for the pair Order
The core of the 1548 Heater is the "U.S. and Canadian Patented Solar Air heater Step-wise heating Technology. Each Solar Air Heater insert has been specifically designed to capture the suns energy, converting energy to heat.
Because of the unique inserts design the overall surface area is greater than any other angular and or flat plate solar air heater of similar size. With the increase of surface area, the Model 1548 can have a smaller overall size with an increase of heat output. (greater efficiency).
Easy Mounting Tabs - Top and Bottom

3/16" Tempered Low Iron Glass

U.S. Patented Module System with High Heat Chambers using
"Step-Wise Heating Technology™".

48 lenght by 16 inches wide.

Aluminum Enclosures

Powder coated paint finish (black)

Fully insulated

Low cost Shipping and Handling.

15 year warranty

Simple Installation

Quick ROI



Residential Homes
Commercial Buildings
Summer houses
Cabins
RV
Mobile homes
Greenhouses
non grid areas
Solar Air Heater True match airflow based on panel temperature ensures maximum efficiency.
Airflow matching is critical when designing a solar air heater. Our controller uses a thermistor to constantly monitor inside panel temperature while adjusting fan speed (RPM).

We designed the solar air heater true match airflow system back in 2009.
Our solar air heater programmable circuit design enables preset temperature settings. Multiple temperature set way points enable the fan to either ramp up or down depending on your inside panel temperature.

Examples: If a cloud passes between the sun and the panel, the temperature drops. The fan will automatically ramp down. If it's a hazy day, one of the preset temperatures will control CFM output to accommodate the panel temperature. A bright sunny day, the fan will ramp up to full CFM output.
Single fan system $149.95

Two fan system $179.95

Factory set to your specification at no charge. Our solar air heater fan systems are programmable circuit design with multiple preset temperature settings. Factory set to your specification at no charge.



Recent Arizona installation
M

odel 1536P 6-panel Array

---
---
"A Greener Energy Solution For the World"
United States Patent 7,434,577
Canada 2643573
---
Solar Air Heater, Solar Air Heating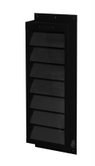 Adding a solar air heater system to your home is one way to offset increasing energy costs. A Solar air heater works by circulating air from inside your home through the system mounted on the exterior wall. The room air can gain up to 30 - 40 degrees before being vented back into the room. Our module system design allows a multiple array to accommodate maximum outside surface area. Two 4-5" holes are required to be drilled through the exterior wall to accommodate the intake and exhaust ducts. These solar air heaters are used to supplement an existing home heating system and can save up to 30% to 40% on home heating costs annually.
Older Style Solar Air Heaters
Most solar air heaters work on the same principle as a greenhouse wherein sunlight is converted to heat within a glass or plastic covered enclosure. The heat is then trapped in the enclosure by the glass or plastic. Solar heating is an economical way for persons to augment the heating of homes and other buildings. The devices can be economical to build or buy and energy from the sun is free. Still, older style devices are not as efficient as homeowners or other building owners would like. The reason for this, at least in part, is because cold incoming air is allowed to mix with the heated air in the solar air heater. Such mixing decreases the average temperature of the air in the heater and, thus, reduces the overall efficiency of the heater.
Solar air heaters have tried to increase efficiency by one or more of, for example, increasing the size of the heater, increasing the surface area for radiant energy absorbance within the heater without increasing external surface area or increasing the layers of clear, transparent or translucent material covering the device. One older style solar air heater is described in the book "Solar Air Heater" (Ray Wolf, Rodale Plans, 1981). This solar air heater tries to increase efficiency by increasing the surface area of the heater. This heater is described as a 4 foot by 8 foot enclosed space covered with translucent fiberglass cloth where cold room air is forced into the device at the base, heated by solar energy and then expelled from outlets at the top back into the room. The enclosure is one large area where cold air can mix with warmer air thereby bringing down the average temperature of the air within the device and, thus, lessening the temperature of the air being expelled back into the room. Additionally, the device is designed to permanently mount on an external wall of the building. Many homes may not have such an expanse of wall space conveniently located for both best sun exposure and best room air exchange.
Our 1500 Series relates to a solar air heater wherein the enclosed space within the device housing is divided into several essentially isolated sections by a partition. The partition(s) of the 1500 Series solar air heaters are parallel to each other and to the top and bottom panels of the enclosure. The partition(s) of the enclosure contact the side panels perpendicularly and contact the front and back panels at a non-perpendicular angle. Furthermore, the partitions of the 1500 Series comprise a plurality of channels allowing adjacent sections to be in fluid communication with each other. The channels are small enough in diameter to prevent any significant back flow of air. This design not only solves the older style solar air heater problem of incoming cold air mixing with the heated air within the heater but also provides the unsuspected benefit of increased heater efficiency by heating the air in a step-wise manner. This step-wise heating of the air, where the heated air of one section provides the starting air of the next adjacent section, results in a greater temperature gain as compared to a similar sized device not incorporating the step-wise heating technology of the 1500 Series. Additionally, the partitions of the solar heater of the 1500 Series also aid in the heating of the air. The partitions of the 1500 Series, in one embodiment, are made of materials and or colors which are known to absorb solar radiant energy thereby proving additional heating of the air as it passes through the channels of the partitions.

Return on Investment:

The return on investment (ROI) for a solar air heater purchase is relatively short. Your energy savings will equal the cost to buy and install the system in 2 to 4 years. Unlike conventional heating systems, solar air heaters require very little maintenance and they keep working decades beyond the initial cost. "A greener energy solution for the world" is our company slogan and purchasing our solar air heater modules will decrease Propane, Electricity, Natural Gas, and Oil consumption. The energy source to power your solar air heater module system is sunlight, and it's free from day one.
Installation is inexpensive and easy:
Our solar air heater systems design is simple and within the capacity of any DIY-er. Other solar air heaters measure between 4 to 5 feet wide by 7 to 8 feet high. They're heavy, so you'll need a helper or two to mount one on a roof or side of your dwelling adding a considerable installation cost. The freight can easily run between, $300.00 to $600.00 per panel.


Our Solar Air Heater 1500 Series Modules have been specifically designed to be both easy to install (1 person installation) and easy to remove in the event of relocating. Easy under the arm handling makes this a safe, and easy installation. Shipping and handling of each Module is between 22.00 and 35.00 per module, saving hundreds of dollars when calculation your initial cost over other available solar air heater systems.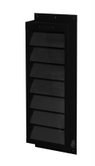 How it's made:
All of the materials used in the fabrication of our Solar Air Heater 1500 series module are made in the United States of America. The thermal absorbing insert are protected by a United States Patent. The proprietary design of the 1500 series manufactured by Solar Air Systems is manufactured under a license agreement.

The inserts are constructed of thin gauge, annealed, aluminum sheet. Each insert with dimensions of 14 by 6 inches. It has rigidity in its length. One side is coated with a high temperature carbon based paint, tailored to the infrared spectrum of sunlight, while the other side is clear aluminum and quite irradiative.
Features the New Model 1536P Profile Series solar air heater module system.




This solar air heater system is an array system including 4 modules designed for ease of installation at a fraction of the price compared to other solar air heaters.

The price includes 4 Model(s) 1536P for $1,469.95. The discounted price represents almost a 30% discount – another industry first for Consumers from Solar Air Systems.
Each Module is of the highest quality the industry can offer. There is no Lexan, Plexiglas, or Fiberglas Glazing with our systems. We use 3/16" Tempered Low- iron Glass for safety, durability, and light emissivity.
There are a limited number of 4-Panel systems at this price. All orders require NO MONEY down.
Shipping within 3-days receipt of payment using UPS. We provide all tracking information via email.
Shipping for the United States is $29.00 to $31.00 per module. International Shipping Rates - Please email for quotation.
order
Free heat from the sun!
The use of a solar air heater will almost alleviate the need to use conventional heating during fall and spring with a reduced need for conventional heating during the winter.

Solar Air System is a new way of transferring heat energy from the sun into your living areas using a U.S. Patented "Step-Wise Heating Technology™".

Direct sunlight on the surface of each partition causes it to heat up. This heat is transferred into your living area creating a new source of environmentally clean available heat at a minimum cost.

A Solar Air Heater System may be installed as one of the following:

Array of Component Modules
Thru existing window.
Side(s) of each window
Roof Mount.
New Construction Partition

Solar Air Heating Systems can be designed and supplied as specified by a customers needs and application. The required hot air temperature is not limited by a single sized panel.
System life is more than 20 years without any additional maintenance.
lowest cost, pay-back period is shorter - less than 2 years.