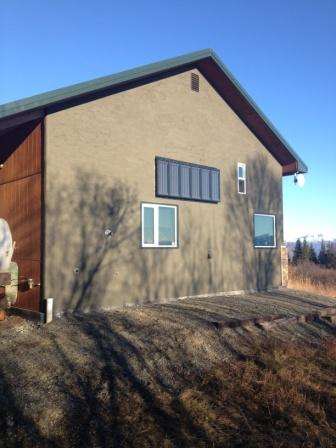 The install went great, and may I say the units are EVERY bit as you said, as for their quality of construction. I was not expecting to see the quality of construction that you have!!

Several of the units had bent attachment flanges, from shipping, but were easily straightened. It would have been much worse if not for your great packaging. I AM TOTALY SATISFIED! Because of the shop at a few degrees off, I will probably get a couple more to put on another wall.
I have been amazed at how much less the oil heater runs. The shop is super insulated, but the oil usage has dropped since the install.

It is an absolute that I am changing the design of the house that will be built next to the shop, to accommodate 2 large units, aprox 20 feet, of panels.

I am at work now, I will talk again later. Regards Tony
---
October 2014
Solar Air Heater Model SAS1548 Shutters
An evolution in design, Solar Air Systems breakthrough patented passive solar air heating shutter system looks just like a vertical house window shutter – but does something no other window shutter can do - generates heat!
Use the power of the sun to help generate free heat and reduce your heating bills with solar heating technology. The unique Solar Air Heater shutters passive solar heater is capable of reducing heating bills by as much as 45% per room. This breakthrough shutter design, passive solar heating shutter application generates clean, renewable heat without changing the look of you home. It's an easy, affordable and a cost effective way to bring passive solar heating into your home, apartment, office or building to reduce heating bills.
When installed side by side next to your south-facing windows (sunny side), the Solar Air Heater shutters generate free heat from the sun. Air temperatures leaving the Solar Air Heater shutters and recalculating into your home can reach 160 degrees.
April 12, 2009
Solar Air Systems at D2E (Down:2:Earth) Boston April 3-5 2009
Solar Air Systems recently attended the D2E Boston 2009 Expo from April 3 to 5th. The show took place in Boston, the historic cradle of the American Revolution, and home to innovations that have far-reaching impact worldwide. Thus, it was the perfect place to introduce a Revolutionary New Green technology, "solar air heater with step-wise heating technology".
Solar Air Systems was proud to exhibit among the industry's best and brightest, introducing new products for 2009, and showcasing the industry staples that have redefined the course of the Solar Air Heater Industry to date. Solar Air Systems displayed the new Model 1536, the industry's newest "Patented" modular solar air heater. Model 1536, Solar Air Systems high-tech "Step -wise heating technology", continued to attract attention at the exhibition. Arguably, the most exciting prospect for 2009 is the "step-wise heating technology, the result of a product innovation grant awarded by U.S. Patent 7,434,577 in '08. The brand new technology was present at the D2E Boston exhibition for the first time. It was accepted as a new industry standard for the manufacturing of solar air heaters.
The time spent in Boston was successful for Solar Air Systems, as company officials met with various engineers, architects, and consumers from around New England. Topics of discussion between Solar Air Systems and their green peers included efforts in the designing of some of the most innovative and energy efficient buildings and homes. Visitors to the booth also had a great deal of interest in Solar Air Systems installation procedures' on module arrays systems and heat output capacity. With the critical role the new solar air heater plays in protecting and improving our environment and health, solar air systems booth was extremely busy throughout the three day event.
D2E Boston Expo provided Solar Air Systems with a wonderful opportunity to learn and connect with industry experts, consumers, and City Officials, and share innovations in the "Green Sustainability" movement.
If you missed the excitement in Boston, you can browse the solarairsystems.com product pages online, or request info via email to learn more about available "green" products. Thanks so much to all of our customers for all the support through 2008. A special thanks to everyone who made our first year's exhibition such a success. We look forward to working with you in 2010!